SYRIA: Laila, "I had to be smuggled into Jordan"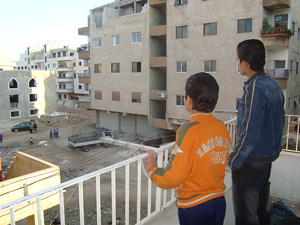 05 Jun 2012
"My husband put me and the children on a truck along with other women - all rebels' wives. I feared that could be the last time I would see him.
AMMAN, 6 June 2012 (IRIN) - Ten years ago Laila* got married to a man from her hometown of Dera'a in Syria, expecting a happy life. She never imagined that one day she would leave him behind fighting Syrian regime forces, and flee to Jordan with four children. Two months ago, Leila fled Dera'a, after the area became a war zone following a March 2011 uprising against the government of President Bashar Al Assad. Many others' wives left their homes after receiving threats allegedly made by the Syrian regime to rebel fighters. Now living in Amman, Jordan, Laila talked to IRIN about her plight: "I did not really want to leave. But my husband insisted I should. I tried my best to stay near him so I moved to Karak [a neighbouring village], but unfortunately it was not much safer than Musaiferah. People urged me to leave Syria and I did. "My husband put me and the children on a truck along with other women - all rebels' wives. I feared that could be the last time I would see him. "I had to be smuggled into to Jordan, because I do not have papers. My passport is expired and there was no way of renewing it. Syrian rebels drove us as close as possible. Then, a long, harsh trip began. We had to walk for two hours before we reached the Jordanian border. It was awful. We were about five women - we had youths (men) walking with us, but we had so many children. "Can you imagine walking that long on your feet with children who need to drink and sit down. I felt so humiliated when I fell over the wall and men had to pick me up. "We were carrying nothing but our clothes. Why bother to carry things like that when you could not carry people with you. My husband and two of my brothers are still there fighting. "When we finally made it to the border, we were surprised to be treated well. The Gendarmerie opened a prayer rug for us to pray. We are happy to see that people are allowed to mention Allah. "Our experience at the holding centres is another story. We stayed there for eight days. We were lucky to have found a shelter and sleep after months of violence and bloodshed in Syria, but it was very hard. We were more than 30 people staying in the same room. We cooked inside as well. They put the men downstairs and left the women and children upstairs to give us some privacy. "Now, I am living in east Amman in a two-bedroom flat which costs me JD 160 (US$225) per month. It is so expensive here. But it is sheltering me, my children, my mother, my mother in-law, and two [women] with eight children. I never imagined that one day I would be living like this. "I have four children who should be going to school, but I do not want to send them. I am afraid to leave them at home alone. I have been here for two months, but I have been afraid to go and ask for help. "I wake up every day talking to God. I never imagined that my peaceful home town would become a battlefield where Syrians kill each other like that. I ask Him if one day I would see my husband and brothers again and if my children would ever go back to school.