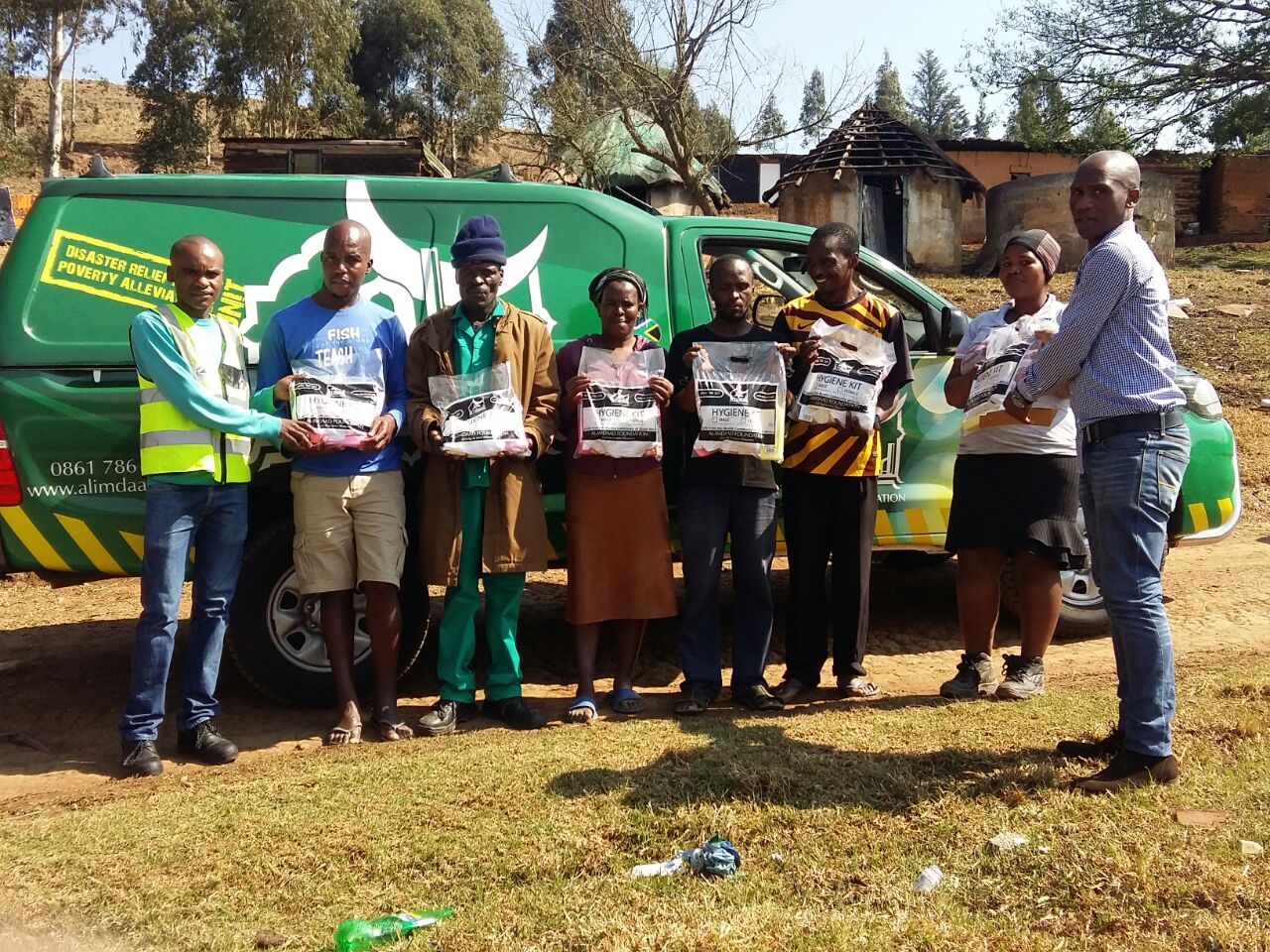 05 Jan 2018
Al-Imdaad Foundation teams in South Africa regularly respond to incidents such as fires freak weather phenomena and other hazardous situations
Western Cape Teams Respond to #Georgefire
29 Oct 2018
Al-Imdaad Foundation Western Cape teams were mobilized to provide emergency relief to those affected by fires in the Southern Cape region where the number of fatalities reached 9 and over 1500 people were displaced. The fires raged in the last few days of October 2018, engulfing up to 65 000 of land. Al-Imdaad Foundation teams responded by distributing blankets, hygiene packs and warm hats to displaced residents of the Rheenedal settlement, who had been put up at the Hornlee Community Hall in Knysna.
Al-Imdaad Foundation responds to Transnet Informal settlement in Nottingham Road
03 Oct 2018
On Monday October 1st, 2018, a devastating fire ripped through the Transnet informal settlement in Nottingham Road destroying 60 houses and affecting 160 people. The Al-Imdaad Foundation was able to help devastated victims of the blaze in partnership with the local uMngeni Municipality. The fire began at around 9AM on Monday morning and quickly spread through the informal settlement which is made largely out of tin and wooden materials. Due to the density of the settlement, 60 homes were soon engulfed in flames that shot meters into the air. By 2PM the blaze had been put out, but not before many families had lost their homes and belongings. After initial assessments of damage had been done, the Al-Imdaad Foundation's local project coordinators met with the uMnmgeni municipality to determine how they could assist the victims. The foundation's Naeem Khan, explained that they had committed to supplying warm hats, hygiene packs and bottled water for the victims during the JOC meeting with uMngeni Municipality. The distributions took place on Wednesday, October 3rd, 2018 at the Transnet settlement which is located adjacent to the railway line in Nottingham Road. Khan reported that the uMngeni Municipal Mayor, Mr Sizwe Sokhela and other local officials joined Al-Imdaad Foundation's team for the distributions. In addition to supplying the 150 warm hats, hygiene packs and 5 litre bottles of water, which they had committed to, the Al-Imdaad Foundation also delivered 100 blankets to the victims.
Recent Fire Responses
31 Aug 2018
In late August and September 2018 Al-Imdaad Foundation teams in Gauteng KZN and the Western Cape responded to several fire incidents. Teams in Gauteng delivered, blankets to victims of a fire at Clearoven Informal Settlement in Randburg Region B and also responded to another fire in the Dikolele Informal Settlement. Gauteng teams had also responded with distributions of blankets to victims of a fire at a block of flats on Windsor West Countesses and Alice Streets in Randburg. In KZN, teams in Durban responded to a fire at the informal settlement in Clairwood where they contributed mattresses and hygiene packs to affected victims. In the Western Cape teams provided assistance to a family who had been affected by a fire in the Philippi area.
Ahmed Kathrada Informal settlement fire
06 Aug 2018
Al-Imdaad Foundation's team in Gauteng responded to a fire at the Ahmed Kathrada Informal Settlement in Claremont, Johannesburg. Emergency Services reported that up to 50 homes were destroyed in the blaze. Al-Imdaad Foundation's Gauteng teams were on the ground and distributed hygiene packs to affected victims.
Kennedy Road Fire
28 Jul 2018
Al-Imdaad Foundation teams in Durban responded to a devastating shack fire that affected over 250 people at the Kennedy Road Informal settlement. The team delivered 120 mattresses and 150 hygiene packs to affected victims as per a request from Disaster Management.
Alexandra Township Fire
29 Jun 2018
Al-Imdaad Foundation teams in Gauteng distributed hygiene packs earlier today to victims of the recent fire disaster in Alexandra. The teams partnered with City of Johannesburg disaster management authorities to address the needs of victims who had lost dwellings in a blaze which ripped through the settlement leaving up to a hundred homeless.
Northwest Foreigner Displacement
24 Apr 2018
In the turmoil of protests in Mahikeng, hundreds of foreign businesses were attacked and looted with foreigners forced to flee. The displaced foreigners were put up at social centres and an Islamic learning centre where they lived off the aid and assistance provided to them. Al-Imdaad Foundation teams from Gauteng were mobilised and responded to the crisis by delivering mattresses and hygiene items for displaced victims.
Disaster response in Eastern Cape's Joe Gqabi District
05 Feb 2018
Al-Imdaad Foundation responded to the needs of communities in Joe Gqabi District Municipality in the Eastern Cape following severe weather in the area. The district was affected by severe thunderstorms, lightning strikes, strong winds and heavy rains in Late January. These weather incidents negatively impacted various families with the Elundini and Senqu local municipalities the worst affected. A thunderstorm on Friday 26/01/18 left 6 families homeless in Maclear, in Elundini Municipality, after the roofs of their shacks were blown away. According to information provided by the District Disaster Management, incidents left 21 victims in Maclear in Elundini Local Municpality, a further 85 victims in the Maclear and Mt Fletcher rural villages, and 54 victims in Sterkspruit and in the rural villages of Senqu Local Municipality. After receiving a request from the Disaster Management Authorities, Al-Imdaad Foundation teams in the province distributed blankets and hygiene packs for affected families.
Fire in Princess Valley
08 Jan 2018
Al-Imdaad Foundation teams in Gauteng were on the ground this afternoon in partnership with Disaster Management Authorities to distribute mattresses, blankets and hygiene items to victims of yesterday's fire at the Princess Valley informal settlement in Johannesburg South
Johannesburg Hailstorm
01 Jan 2018
Al-Imdaad Foundation teams responded to the intensive hailstorm which struck Johannesburg on December 30th, 2017. The storms caused damage in Braamfischer, Lawley, Lenasia Mall and Protea Glen. Damages included blown-off roofs, fallen trees, power outages and damaged shacks and RDP housing. Al-Imdaad Foundation coordinated with the City of Johannesburg Disaster Management and was able to address the needs of displaced families from Snake Park Informal settlement. The foundation provided blankets, mattresses and hygiene packs to the displaced victims.
Al-Imdaad Foundation responds to Hailstorms in Rosetta
30 Sep 2017
On the evening of Monday, October 2nd, 2017, a freak hailstorm struck the area between Nottingham Road and Mooi river in the KZN Midlands. The occurrence affected residents of the informal settlement on Ntuli Farm in Rosetta quite severely with extensive damage caused to their roofing and huts. Al-Imdaad Foundation assisted the community after a request had come through fro the local Mooi Mpofana Municipality.
Johannesburg Informal Settlement Fires
19 Sep 2017
Over the past few months Al-Imdaad Foundation teams in Gauteng have been active in response to numerous informal settlement fires in the province which often leave already struggling communities in devastation. These fires spread quickly due to the density of settlements and poor construction standards and often leave hundreds devastated. The teams reach out to displaced residents at temporary shelters providing hygiene items, blankets and other relief essentials. Recent incidents teams have responded to include the Fire in Alexandra Township on July 17th, the Marathon Settlement fire in Germiston on August 21st , the Cleveland Informal Settlement Fire on September 19th , and a fire at the informally occupied Cape York Building on July 13th .
Al-Imdaad Foundation teams in the Northern Cape respond to Berlin floods
23 Aug 2017
Al-Imdaad Foundation teams in the Northern Cape responded after heavy rainfall caused flooding in the Berlin area. Many families from the Majarantiya settlement in Berlin were displaced as a result of the floods and had to be temporarily relocated. Al-Imdaad Foundation provided relief supplies to the displaced families.
July Fire Responses in Durban
28 Jul 2017
In the second half of July 2017, Al-Imdaad Foundation teams responded to two informal settlement fires in the Durban area. On July 17th, a fire broke out at the Jika Joe informal settlement and later on in the month a second fire affected the Pilgrim informal settlement in Isipingo Rail.